Carol DeChant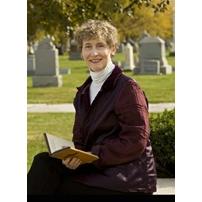 Carol DeChant shares ACTA's penchant for both religious thought and baseball. As a child she attended Visitation School in Des Moines and Iowa Cubs games, establishing a lifetime team loyalty (with a brief defection to Kansas City when the Royals had George Brett and poet-pitcher Dan Quisenberry).
Carol's new book, Great American Catholic Eulogies, also reflects her interest in story telling, dating back to graduate work in folklore at Creighton and Kansas Universities. The book offers a spectrum of American Catholic history, through "stories" about men and women of every era since the American Revolution. These lives are revealed by their eulogists and in prefaces Carol wrote for each tribute, to place the subject in his or her era.
The deceased represent a broad range of American-Catholic ethnicity, whose contributions were in social, public, church or military service, or through art, music, literature, media, and even baseball. The book reintroduces them to readers who may have forgotten—or never known—the extent of how Catholics left their mark on America.
Carol has also contributed chapters to ACTA's Diamond Presence and Christmas Presence collections, and her articles have appeared in the Miami Herald and in Chicago's Tribune and Sun-Times.
Carol is the founder of DeChant-Hughes & Associates, Inc. the national public relations firm serving books and authors, (now headed by Kelly Hughes). Landmark publishing events launched under Carol's direction include the revised Catechism of the Catholic Church, (Librera Editrice Vaticana/Liguori Press) The New International Version of the Bible, (Zondervan) and The Commentary on the Torah (Jewish Publication Society). Writers represented include Mitch Albom (Tuesdays with Morrie); Joseph Cardinal Bernardin (The Gift of Peace); Episcopal Bishop John Shelby Spong (four books); and athlete-authors Mike Singletary, Gary Carter, and Dave Dravecky.
After graduating from Drake University with a journalism major, Carol worked on the Kansas City Diocesan newspaper (after its predecessor, The Catholic Reporter, relocated to New York as a national independent paper). The new local paper also exceeded diocesan comfort zones, however; and after it was shut down, Carol became an editor and film critic at a suburban newspaper chain. Her screenplay, Pure Beholding, had a brief happy life as first place winner in a Texas screenwriting competition before dying peacefully, never produced.
Carol and her husband Stan Reinisch vote in the Florida county where 527 votes decided the 2000 presidential election; they spend hurricane season in Evanston, IL. Their ten grandchildren come and go.