Lynn Cassella-Kapusinski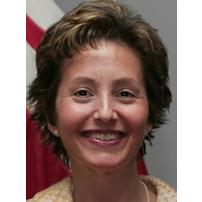 Website: www.FaithJourneys.org
As a Catholic child of divorce who has beaten the odds, Lynn Cassella-Kapusinski believes it is her calling to help other children from divorced families rise above this adversity.
Lynn's parents separated when she was 11-years-old, then divorced five years later. This experience has given her a firsthand understanding of the grief that children from divorced families experience along with other obstacles they face in overcoming it.
She is also very happily married and, as such, serves as a beacon of hope for them.
Lynn is the founder of the Faith Journeys Foundation, Inc., a non-profit organization in Baltimore, Maryland dedicated to supporting young people with separated or divorced parents in their journey towards growth. The following is a list of her credentials:
Recognized by His Holiness Pope Benedict XVI for her work, along with the Pontifical John Paul II Institute for Studies on Marriage and the Family and the Knights of Columbus. The text of her ministry model for separated and divorced families has been translated into Spanish, French, and Italian. Faith Journeys has also worked with the Archdioceses of Washington and Baltimore, the Dioceses of Pittsburgh and Harrisburg, NCEA, and Catholic Divorce Ministry.
Lynn's second book, Now What Do I Do? A Guide to Help Teenagers with Their Parents' Separation or Divorce (ACTA), has been endorsed by the Most Reverend Donald W. Wuerl and the Most Reverend Edwin F. O'Brien. It also won a second place award in the Family Life Category of the 2007 Catholic Press Association Book Awards.
Her first book, Making Your Way After Your Parents' Divorce, has also been endorsed by the Most Reverend Donald W. Wuerl and has a foreword by the Reverend Theodore Hesburgh, C.S.C., President Emeritus of the University of Notre Dame.
Lynn has been featured on EWTN, NBC TV, Fox 45 TV, SIRIUS Catholic Radio, Relevant Radio, Catholic TV, The Catholic Digest, Columbia Magazine, Notre Dame Magazine, Catholic New World, and other media outlets across the nation.
The Notre Dame Club of Maryland presented Lynn with its "Award of the Year" for 2004-2005 for the work of Faith Journeys.
She obtained her BA degree from the University of Notre Dame and her MFA from Vermont College of Fine Arts. She also has a MS Degree in Pastoral Counseling from Loyola University in Maryland, and is a Licsensed Professional Counselor.